Susan Jeffers's The Twelve Days of Christmas is pretty much exactly what you would expect and that's a good thing. The text is mostly just the familiar song. The illustrations are the lush colorful paintings typical of Jeffers complete with plenty of glitter. Jeffers adds a bit of a story to the carol, told mainly through the illustrations and a little bit of added text. A girl named Emma breaks her snow globe and is transported to a magical land by Santa. If you have a girl who enjoys other Jeffers books, she will likely be delighted by this one as well.
We love the Duck books by Doreen Cronin and Betsy Lewin. This Christmas edition is just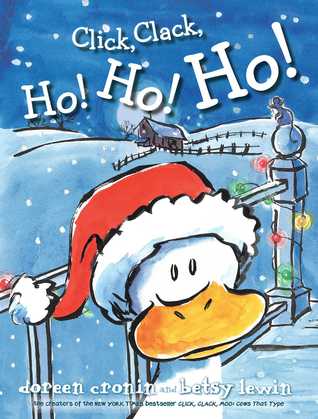 as fun and goofy. Duck as usual is up to his old tricks and manages to get all the animals stuck in Farmer Brown's chimney. Luckily there is someone coming who can save the day!
Our Christmas book basket has become our favorite Advent tradition. (As I might have mentioned once or twice or a hundred times.) Some days we read funny books (like Click, Clack, Ho! Ho! Ho! )Some days we read beautifully illustrated books. Some days we read books with favorite characters. Some days we read books that make me cry.  Some days we read books that remind us all of the real reason for Advent.
So far what has been the most memorable book of the season is one that is none of those things. In fact, it is memorable mainly for being so bizarre that we all couldn't stop laughing from the sheer weirdness of it. Christmas at the Toy Museum by David Lucas is just weird. The story is basically that the toys have no presents to unwrap so they decide to wrap themselves. Then they take turns unwrapping each other and being excited. Alert readers may have discovered the problem with this plan. What does the last toy that gets unwrapped have to unwrap? Perhaps it's enough to say that my 13 year old loved this book because of it's so awesomely stupid (his words) and couldn't wait for me to blog about it. I'll leave it at that.