I've spent the past week reading the 2016 Newbery Award Winners. I didn't exactly plan to read them all at once, but they all arrived for me at the library at the same time so it seemed serendipitous.
Matt de La Pena's Last Stop on Market Street is clearly the big topic of conversation this year, as the first true picture book to win the Newbery Medal. It also was named as a Caldecott Honor Book. The book tells the story of a young boy, CJ, and his Nana as they travel on the bus after church to the last stop on Market Street. CJ is a typical young kid who asks his Nana a lot of questions and expressed dissatisfaction with life as it is (Why don't they have a car? Why do they always have to go where they are going on Sundays? Why can't he have an MP3 player like the other boys on the bus?) His Nana lovingly and wisely answers his questions and helps to show him the beauty in the everyday world around him. The language is realistic and has the cadence and sound of real people talking but is also sprinkled with lovely and unexpected imagery.
My first impression after reading it was probably similar to a lot of people's. It is a great book but I was a little confused about why it was deemed the Newbery Medal Winner, an honor I associate with much more complex books. And much longer books. However, the more I think about it the more I like the choice. So often I see parents want to move their kids along from picture books because they are "just for little kids". As soon as kids start reading on their own we push them towards chapter books and out of the picture book section of the library. But there are so many wonderful picture books out there and I think by giving one of them the Newbery the committee has legitimized the idea that a good picture book is worth reading for all ages of kids, even those who have "graduated" on to much longer books. I love that my seventh grader still reads through the stack of picture books we bring home from the library each week. He likes good books, and I love that he doesn't see himself as too old to enjoy a good picture book.
After serving on the Cybils selection commitee two years ago, I realize that the very concept of picking the ONE BEST BOOK is just ridiculous. There are so many wonderful books for kids and so many different reasons that a book might appeal to a committee at a particular time. I do think that this book was probably picked partially because the issue of diversity in children's literature is a very hot topic right now. However, that doesn't mean Last Stop on Market Street is not also without literary merit. It just happened to be a beautiful book that also fits in with the current thoughts about what is important and desired in kid lit. I've been reading along with Amy's Newbery Through the Decades Challenge for the past year and one thing I've learned is how much books reflect their time and place.
I also read the three Newbery Honor Books this week and thought all three of them were very deserving of the honor. The War That Saved My Life by Kimberly Brubaker Bradley and Echo by Pam Munoz Ryan were both WWII era stories. Echo has some fairy-tale and fantasy elements that weave together three different tales about three children in difficult circumstances during WWII. Music is the theme that binds together all three stories. I enjoyed it but I really loved The War that Saved My Life, which tells the story of Ada, a young girl in London with a clubfoot who has been locked inside a room her entire life by her mother. When WWII begins Ada finds a way to escape with the other child evacuees to the country where she slowly begins to find a new life. I loved that the happy ending is not something that is easy. Ada struggles with being afraid of being happy and loved as it might all be taken away from her again. It's a book that felt very real.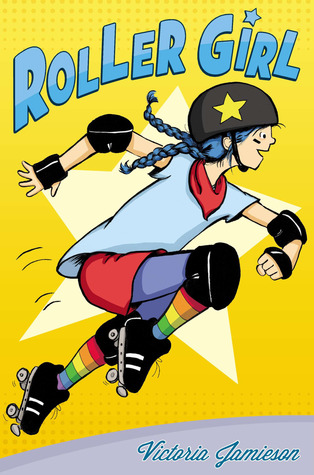 Victoria Jamieson's Roller Girl also felt very real. Almost too real, like experiencing all the angst of middle school all over again. Perhaps this is the year of the graphic novel for me as I was totally charmed by this story of Astrid, a girl who is trying to figure out where she belongs. Her best friend is becoming interested in fashion and boys and ballet and Astrid feels left out and unsure of who she is until she finds her tribe at a roller derby camp. One thing I really liked is that Astrid is complex, not always likable, but always realistic and sympathetic. Similarly, we see that the friend isn't all bad. It isn't that girls who like ballet and fashion are bad and girls who like roller derby are good. It's more how do you figure out how to become your own person while still hanging on to the friends you had when you were little and things were simpler. I would highly recommend this one for anyone in the middle school or almost middle school age.