We read a lot of picture books, although less than we used to and less than I wish we did. Today I have to share a small, somewhat random sample of some recent finds from our library's new shelf that we have enjoyed. The first, Penguins in Peril, finds a penguin the unwilling captive of three dastardly cats. The cats have spent all their money on movies instead of food and craft. They come up with a plan to perpetrate the most daring robbery of all time and get all the fishes they want. But first they need a secret weapon: the penguin. The penguin outwits them in the end and the cat's plan is thwarted. A first book by Helen Hancocks, this one definitely takes a dry sense of humor to appreciate. The somewhat flat text and graphically simple illustrations have a certain plain-Jane charm. My kids liked it when reading it the first time but I haven't seen them reading it again on their own or seeking it out for second or third readings.
On the other end of the spectrum from the conniving cats in Penguins in Peril, is Sarah
Weeks' Glamourpuss, the title character in what can best be described as the Fancy Nancy of the feline world. Glamourpuss is, well, glamorous. The most glamorous pet ever. But then Bluebell, a tiny toy dog, comes to visit. Bluebell wears fancy clothes: hoopskirts and tiaras and fruit-covered turbans. Bluebell dances and does tricks. Glamourpuss starts to doubt herself. Then however, Bluebell tears up all her fancy clothes and Glamourpuss realizes that maybe there is room for two fabulous pets in the same house. David Small's (one of my favorite illustrators) humorous illustrations are a perfect paring for this quirky and sweet story.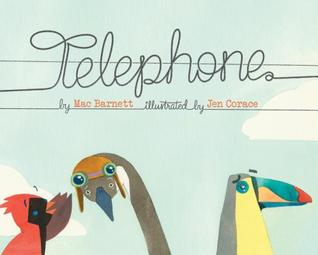 And for my last offering, we go back to simple, at least in concept. Mac Barnett's Telephone takes the game of telephone and imagines how it would go as played by birds on a wire. The concept is simple but the execution is picture perfect. The message gets more and more garbled. Illustrator Jen Corace's birds tell a story of their own as each bird changes the message according to his own job or hobby.
One reason we don't read as many picture books as I might like is that with older kids, we spend more time reading chapter books. Chapter books are great fun as well to read, and I love our nightly "special book" time. But I think too often parents think that once their kids are old enough to move on to reading "big books" that the time for picture books is over. I recently discovered that my sixth grader still reads every picture book I bring home from the library on his own. It makes me happy that he doesn't feel too old to enjoy what some kids might feel are books just for little kids.
Stop by Hope is the Word for Read Aloud Thursday and share what you family is reading together.