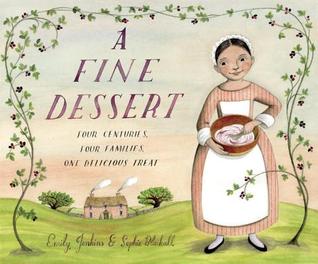 Ruth and I just finished a unit on food for kindergarten. One of the favorite books we read was a new one by Emily Jenkins, A Fine Dessert. Jenkins follows four families over four hundred years making the same dessert: blackberry fool. Each family prepares the dessert following the same basic steps. The repetition in the text of the recipe and the similarities between the centuries (each child gets to lick the bowl) create continuity. However, the charm is in the differences. The first mother and daughter pair living in Lyme, England in 1710 use a whisk made out of twigs and cool their dessert in an ice pit in the hillside. The 2010 family (the only father and son pair in the book) live in San Diego and serve the dessert to a multicultural group of friends after preparing it with all the modern conveniences. Sophie Blackall's delicately detailed illustrations draw the reader into each time period and further serve to tie the centuries together while also showing how clothing and housing and people have changed.
Pat Brisson's Before We Eat: From Farm to Table is another new book about food. This
one take a less personal approach and looks instead at all the people who are involved in getting the food we eat on our table. There are farmers and ranchers, yes. But also, truck drivers and  grocery clerks and home cooks. The woodcut illustrations by Mary Azarian (illustrator of the Caldecott winning Snowflake Bentley) are beautiful and complement the simple text.
We also enjoyed looking through What the World Eats by Peter Menzel and Faith D'Aluisio. This one is chock full of information but it was a bit too much for five year old Ruth. However, the photos were fascinating. The main interest for us was a photospread for each country showing a typical family and all the food they eat in a month. It was really eye-opening for my kids to see how much less processed food most of the world eats and to see how little some people have to eat in a week.
Other food themed books we recommend: 
Minette's Feast by Susanna Reich
Bread and Jam for Frances by Russell and Lillian Hoban
Cloudy with a Chance for Meatballs by Judi and Ronald Barrett
The Seven Silly Eaters by Mary Ann Hoberman
Dragons Love Tacos by Adam Rubin
Pinkalicious by Victoria Kann
Time to Eat by Steve Jenkins