Recently Ruth and I spent a week reading about ladybugs. We revisited an old favorite, The Grouchy Ladybug by Eric Carle. I can't imagine that there is anyone out there who doesn't know this story but if you haven't yet met the grouchy ladybug, do. My almost 11 year old still loves it when the whale's tail smacks the ladybug and sends him flying back across the land. It's a fun book and if you want your fun to come with learning objectives you get lots of animals in their habitats and clocks and telling time.
We also read about a million of the Ladybug Girl books by David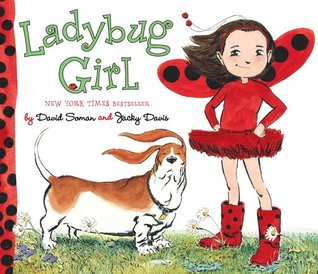 Soman and Jacky Davis. I love these odes to imagination. Of all the literary alter-egos that Ruth enjoys, this one might be my favorite. I think she prefers Fancy Nancy or Pinkalicious (both of whom are fabulous) but something about this red tutu wearing super-hero just makes me smile.
Other ladybug books we enjoyed:

Are You a Ladybug? by Judy Allen and Tudor Humphries
Ladybugs by Gail Gibbons
Yoo-Hoo, Ladybug! by Laura Ljungkvist
And why did we read all these ladybug books? Serendipitously, it went along with Ruth's kindergarten class study of bugs at our co-op.
But the real reason was that our little ladybug turned five.
(Our ladybug with a friend who showed up on our dinner table for Ruth's birthday dinner.)